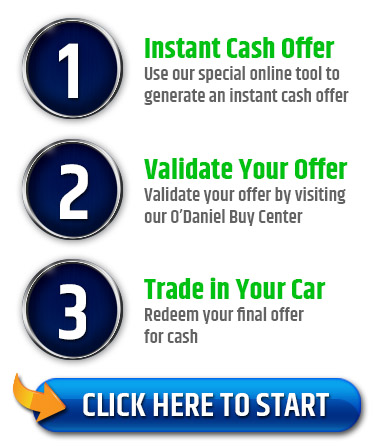 SELL US YOUR CAR TODAY!
ODaniel will make sure you get top dollar for your vehicle. Our process is quick, simple and easy thus ensuring you get the best price.
WHY SHOULD I SELL MY CAR TO ODANIEL AUTOMOTIVE?
Selling your car is a lot of effort. We eliminate much of the hassle to advertise and communicate with buyers. We also:
• We guarantee funds on all checks offered by us for your vehicle
• We are here Monday through Friday, 8am – 5pm for your convenience to answer any questions
• Trade-In Marketplace: We want to provide an easy way for you to price and sell your vehicle
O'Daniel Automotive Group is a family owned collection of 4 dealership locations, selling nine automotive brands. O'Daniel Automotive Group sells hundreds of new and used vehicles per month which allows us to offer top dollar for your vehicle.